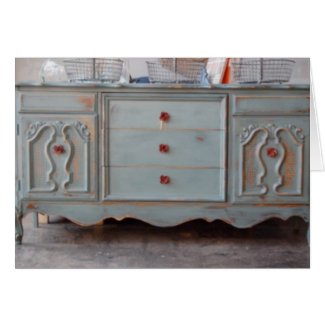 Yup, only had the booth for a little over a month and we are expanding! The joint venture is working well but we need more space. We are finding that the items we have for sale include more furniture than we had first envisioned.
Vintage, antique and re-styled furniture takes up a lot more space than glassware, pottery, jewelry and miscellaneous small items. So, within the next couple of weeks, we will be almost doubling our booth space in order to add our larger treasures like:
Maple Dressing Table
Black lift top end tables
Mid Century step end tables
Mid Century Record Cabinet
Wash Stand
Maple drop leaf table and chairs
Vintage style Pottery Barn Kids Locker, table and bulletin board set
Chest of Drawers
Assorted vintage chairs
potbelly stove
Assorted lamps
and much more!
If you get time, stop by the booth at 107 W. Main Street in Greenfield, Indiana. We might just see you there!
Image Credit: Vintage Antique Cards by jbwystan
H4R6NMF86DQM